Are you looking for a sealer that will protect your pavement or driveway from the elements? Foundation Armor SX5000 is a proven, durable, DOT-approved, natural, and easy-to-apply sealer. It comes in 5 gallons container and can cover a wider area.
For Porous Surfaces: Up To 175 Feet/Gallon (5 Gallons=875 sq.ft.)
For Smooth Surfaces: Up To 225 Feet/Gallon (5 Gallons=1125 sq.ft.)
Armor SX5000 WB sealer does a wonderful job of sealing pores and repelling water and other stains like oil. It will provide protection from elements and can last up to 10 years. The sealer as well maintains the natural look of your natural stone or aggregate. You can apply it in the interior or exterior and vertically or horizontally. Read this Armor SX5000 review to know more about this water-based driveway sealer's benefits, pros, and cons.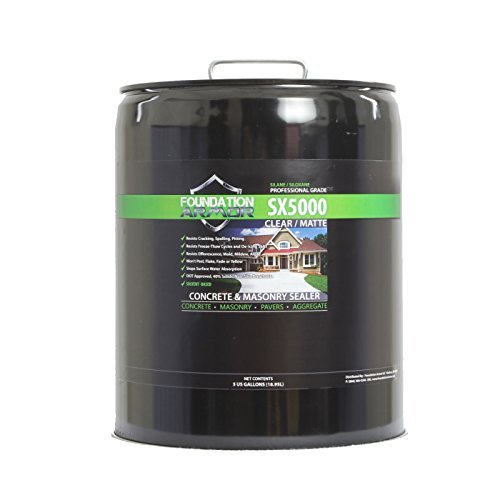 Check Price
Silane/Siloxane Sealer Foundation Armor Sx5000 Reviews
Applicable to the interior and exterior surfaces
First and foremost, this is an excellent sealer as it can be applied either inside or outside. So, regardless of where the surface is located, you will still be able to protect it using the same product instead of buying another one. It can also be applied horizontally or vertically.
Creates a barrier that prevents damage
After sealing your surface using the Armor SX5000 WB, it will repel water and other stains. This water-based sealer penetrates deep into the surface, where it chemically reacts to create water-repellent barriers within the pores, which reduces water absorption by up to 95%. In return, it will resist damage caused by water absorption like spalling, cracking, salt damage, pitting, freeze-thaw damage, efflorescence, and mold & mildew. This is one of the reasons it was approved by the Department of Transportation (DOT) as being a water-repellent sealer.
Related: Top-Rated Stamped Concrete Sealer Reviews
Easy to apply
Using this sealer doesn't require one to be a professional, as it is easy and fast. Simply get a brush, roller, or pump sprayer. A brush is suitable to use when you have a small surface to cover, while a pump sprayer is ideal for covering a larger area.
Extremely durable
A challenge that many homeowners face is acquiring a sealer that doesn't last for long. Most silane sealers last up to 5 years. But this is not the case with Armor SX5000, as it can last up to 10 years. As a result, you can rest assured that your pavement or driveway is protected away from the elements for at least the next 8 years or so.
Covers a wider area
The 5 gallons Foundation Armor SX5000 WB sealer can cover up to 1000 square feet in just 1 coat and up to 500 square feet in two coats. This is amazing, as most sealers are not able to cover such a wide area. If you're covering a small area, you can always keep the remaining sealer for future use.
Related: Pool Deck Sealer Reviews: Water-Based Ultra Dry 70
Applicable on various types of surfaces
Unlike other sealers that only limit you to certain surfaces, Armor SX5000 doesn't. You can use this sealer on a variety of surfaces, such as brick, concrete, natural stones, pavers, and aggregate.
Maintains the natural look
The Armor Sx5000 WB doesn't change the look of your concrete driveway or paver. Instead, it maintains a natural and unsealed appearance. Unlike similar products, you will not see any visible surface film after applying it. On top of that, it has up to 5X more active ingredients than similar competitor products.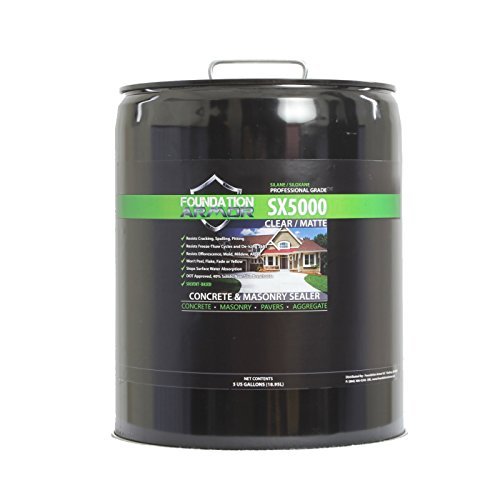 Check Price
What are the pros?
Easy to apply with a brush, sprayer pump, or roller
User-friendly
Maintaining the natural look of the surface is applied on
It is 100% breathable, so there is no peeling or flaking
Reduce surface water absorption by up to 95%
It lasts up to 10 years
Comes with 5X more active ingredients than competitor products
Takes less than 30 minutes to dry
It reduces dusting caused by surface abrasion and movement of moisture through the concrete pores.
Armor SX5000 drastically reduces deterioration brought about by water absorption, like spalling, staining, cracking, freeze-thaw, salt damage, pitting, efflorescence, mold, and mildew.
It is approved by the Department of Transportation (DOT) as a water-repellent sealer
It can be applied to both interior and exterior surfaces
Cons:
The sealer is quite expensive when compared with similar products on the market

Foundation Armor Sx5000 sealer does not beautify your surface, as it only maintains its natural look.

Not ideal for asphalt driveways
Comparison Table:  Armor SX5000 vs. Armor WL550 vs. Armor AR350

Sealer
| | | | |
| --- | --- | --- | --- |
| Features | Armor SX5000 | Armor WL550 | Armor AR350 |
| Sealer Type: | Pro Grade Silane-Siloxane | PRO Grade Siloxane | PRO Grade Solvent Based Acrylic |
| Appearance: | Won't Change Look | Wet Look | Wet Look Low Gloss |
| Material: | Silicone | Silicone | Acrylic |
| Base: | Solvent-Based | Solvent-Based | Solvent-Based |
| Use: | Unsealed Concrete, Brick, and Masonry | Unsealed Concrete, Brick, and Masonry | Unsealed Concrete & Pavers, Concrete & Pavers Previously Sealed Solvent Based Acrylic |
| Professional Grade: | Yes | Yes | Yes |
| Life Time: | 7-10 Years | 3-5 Years | 1-5 Years |
Conclusion
With the Armor SX5000 WB sealer, you will never go wrong when it comes to protecting your paver or brick from water and other harsh elements. It is easy to use and will offer you many years of protection.
FAQs
Question: Do I have to stir the Sx5000 sealer before using it?
Answer: Yes, you should. It is not a must to stir this sealant before using it, as some clients say they used it directly without stirring. At times, good stuff may sit at the bottom of the can, and stirring or shaking it will ensure that the sealer is properly mixed and not lacking anything.
Question: Is the Foundation Armor Sx5000 capable of protecting my driveway from oil and transmission stains?
Answer: Yes, it is. This sealer has silane/siloxane, which is outstanding when it comes to penetrating and sealing a surface. Rainwater, oil, and other stains will not penetrate into the surface but instead, bead or pond on it.
Question: Can you get a glossy, wet look?
Answer: No, it won't change the look. For a wet look, you can try Armor WL550 or AR350.
Question: Can you coat it on a damp or wet driveway?
Answer: As it is an oil-based sealant, it is water-repellent. So you can't apply it to a wet surface. You must dry the surface before application.
Question: Does Armor SX5000 have an odor?
Answer: Yes, but Armor SX5000 WB (water-based) sealant is odorless.
Question: How long do you have to cure the concrete before coating it?
Answer: A minimum of 28 days is recommended.
Question: How long does the coating last?
Answer: Depending on the surface, the brand provides a 7–10 years warranty. So it may last at least 8 years.
Question: Can you use it on an asphalt driveway?
Answer: No, only for concrete driveways.